Surrounded by untouched wilderness, Cape Tribulation is an unspoilt paradise with primitive rainforest on one side and pristine beaches on the other. With relatively little development, this is the perfect destination to totally escape the rat race.
Once you leave the mainland and cross over on the Daintree Ferry, all accommodation, homes and businesses are totally cut off from the grid. Living on this side of the river requires you to generate your own power as well as manage your own waste and water.
The lack of development is one of its biggest attractions.
No plush resorts, shopping complexes or even wi-fi to be found here, just beautiful wilderness.
If this sounds like your idea of heaven, here is our rundown of places to stay in Cape Trib.
[headline size="small" align="left"]1. cape trib campground[/headline]
If you are a camper looking for somewhere to pitch your tent, camper trailer or campervan, then this is definitely the best place to stay in Cape Tribulation.
It is the only beachfront campground (borders Myall Beach) and has both powered and unpowered sites, two separate camp kitchens (one large one with pool table, board games, drink dispenser and lots of large tables with bench seating), three amenity blocks, a large communal campfire and lots of lawn to play on.
The campground also boasts the Sand Bar, which serves wood fire pizzas in the evenings.  We love staying here and Myall Beach is by far one of the most beautiful beaches in Queensland.
They don't allow dogs – the only two campgrounds that do in the Daintree are at Lync Haven or the Service Station campground.
[headline size="small" align="left"]2. PK's village[/headline]
PK's is geared to the backpacker market with cabins and dormitory accommodation scattered around the property and a small camping area.
The communal area is the star attraction with a huge open plan restaurant and bar with pool table, large television screen and loads of seating inside and out. There is always a great atmosphere.
There is also a swimming pool and a pathway down to the beach from PK's Village.
[headline size="small" align="left"]3. safari lodge[/headline]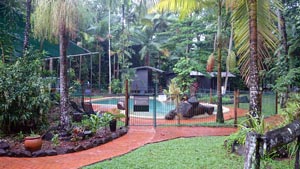 If you like the idea of 'glamping' then this place is for you.
The Safari Lodge has lots of cute little eco-friendly huts that come in dorm, single or twin share.
The huts are a bit fancier than safari tents but they are very small and only fit a bed, either a queen size bed or two sets of bunks.
They don't have bathrooms, just communal facilities, but the rooms are very clean with crisp white bedding and each hut has a small deck out the front.
If you just want somewhere to lay your head after exploring all day then the Safari Lodge is a good option.
There is a swimming pool and camping area with a camp kitchen at the back of the property. It is mainly gravel so not ideal for tents.
[headline size="small" align="left"]4. the beach house[/headline]
About 10 minutes drive north of Cape Trib, you won't find any signs for The Beach House until you actually arrive there.
There is a choice of ensuite cabins or dorm-style accommodation, all of which are spread out along a winding path through the rainforest leading down to the beach.
There is a large communal area by the beach with a restaurant, television area and swimming pool, which is a great area to hang out. You can even get an espresso coffee.
Padddletrek Kayaking also operates from the beachfront area.
[headline size="small" align="left"]5. ferntree rainforest lodge[/headline]
Ferntree Rainforest Lodge is definitely the most comfortable accommodation out of all the places to stay in Cape Tribulation.
It is clean and spacious although it is showing its age and could do with being renovated. Some rooms are better than others – the garden lofts are good for families.
It has 65 rooms spread out through a large rainforested property.
There are two swimming pools, a café/restaurant and a large games room.
[headline size="small" align="left"]6. cape trib farm stay[/headline]
For something a little more unique, Cape Trib Farm has five cabins all nestled in the fruit orchards with views of Mt Sorrow.
The cabins are small but beautifully clean and comfortable.
With absolute peace and quiet and a very comfy bed, you're guaranteed a great night's sleep!
Each cabin has a verandah where you can sit in the evenings with a glass of wine.
There is also a communal kitchen and dining area where guests can sit and relax with a cuppa.
Breakfast is provided too and since this is an exotic fruit farm, it includes a basket of amazing tropical fruits.
[headline size="small" align="left"]travel nq fast facts:[/headline]
Cape Tribulation is in the Daintree Rainforest at the northern end of the sealed road section before it becomes the Bloomfield Track.
There's no connection to phones and internet, but plenty of connection to nature in Cape Trib
There are other accommodation options further south in the Daintree.
Take insect repellent (rainforest = mozzies!)
Cape Trib has a few places to eat – Whet Restaurant is definitely the pick of the bunch with surprisingly good food.