The north Queensland coastline is dotted with beautiful sandy beaches, separated by rugged headlands and wide rivers, and many of them have camp sites right on the beachfront.

First of all I want to give a shout-out to one of those unsung heroes of the tourism business in north Queensland – the humble Council Caravan Park.
Not only are these campgrounds usually the cheapest places to stay but they are also often situated in the most scenic locations.
Here's a list of those campgrounds owned or operated by the Councils that I would highly recommend for a beachside escape.
1. hull heads
Hull Heads is situated between the Tully and Hull Rivers. It is a haven for boating and fishing enthusiasts, with plenty of boat ramps, and there are also some good beachwalks.
2. mission beach
Mission Beach campground provides access to coastal walking tracks including the Ulysses and the Cutten Brothers trails, which wind through forests, along great beaches and over to Clump Point.
It's also a short walk to the Mission Beach tourism precinct and shops
3. bingil bay
The Bingil Bay Caravan Park epitomises the quaint nature of these small council parks.
It is situated at the quiet northern end of the Mission Beach area along one of FNQ's most scenic drives.
There are only 8 sites so its always quiet and they can usually squeeze a tent in.
4. kurrimine beach
Apart from the nice beachwalks, Kurrimine has the on-shore King Reef that you can walk out to at low tide.
There are a handful of places where you can buy food including The King Reef Hotel, which is right on the beach if you don't feel like cooking or pouring your own drink.
5. cowley beach
Cowley Beach is near the mouth of Liverpool Creek and it's a place that even few locals know about. In fact, the caravan/camping area is just about all there is at Cowley. There is a kiosk for meals and basic supplies.
This is a renowned spot for fishing. Call 07 4065 4806 to book.
6. etty bay
Etty Bay is a beautiful little bay about 15 minutes south of Innisfail.
It's like being on a tropical island and it has the bonus of being a very good place to see cassowaries so drive slowly along the road descending into the bay.
It's only a small park and very popular so its essential to book in advance. Call 07 4063 2314.
7. bramston beach
Bramston Beach is at the south end of a long, long beach.
It is a quiet little township some distance along a beautiful drive from the highway. There's a boat ramp nearby and a small cafe.
It's also only a 15 minute drive to the Russell River National Park. Call (07) 4067 4121
8. russell river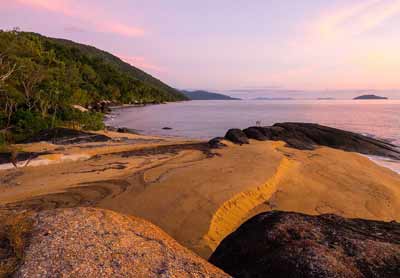 Along from the Bramston Beach caravan and camping areas is the Graham Range/Russell River campground.
Just turn left before you get to the beach as there are no signs initially.
Also, I don't know why they call it that as its nowhere near the Russell River and Graham Range is inaccessible.
It should be called 'paradise campground' as it has great scenery and beautiful beaches. It is a very photogenic spot.
The campground doesn't have any facilities.
9. palm cove
Palm Cove Holiday Park is very different from the other beach camping sites on this list.
It is located smack in the middle of an otherwise expensive tourist destination so it's close to lots of shops, facilities as well as beautiful beaches.
It's also a great spot for canoeing in mild weather. Call them on (07) 4055 3824.
10. cape kimberley
The name of the campground is Koala Daintree Campsite and Resort although there are no koalas in this area.
Cape Kimberley is on the north side of the Daintree so it feels quite "wildernessy". After the ferry crossing turn right after about 5kms before ascending the Alexandra Range
It is a short walk south to the mouth of the mighty Daintree River and some good rock-hopping and exploring to the north.
Experienced canoeists can paddle out to Snapper Island. Call 07 4090 7396 to make a booking.
11. cape tribulation
There are quite a few accommodation options in Cape Trib but Cape Tribulation Camping offers comfortable camping right on the iconic Cape Trib/Myall Beach.
It has a very social communal kitchen and all the facilities you need.
This is a popular place to stay before heading up the Bloomfield Track.
Look out for the signs just after crossing Myall Creek.
12. noah beach
Noah Beach campground is the only national park campground with facilities along the Daintree coast.
Nestled in tropical jungle between the road and the beach there are only 15 sites and the campground is often closed during the wet season (January-March).
It can be very popular so like all National Parks you need to book a site on the Parks website.
Note that there is little or no mobile phone coverage in this area.
13. archer point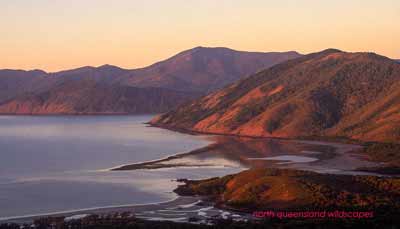 The turn-off to Archer Point is about 15kms south of Cooktown along a good dirt road.
The campground is looked after by the Council. There are a variety of beachfront and sheltered campsites.
Camping is freely allowed and when its not windy it is a truly great piece of wild coastline and a wonderful camping experience.
Take a drive to the lighthouse or walk south around the headland at low tide.
14. weary bay
Weary Bay is near the mouth of the Bloomfield River and it has signposted access via Ayton.
It is wild and often windy and there are no signs saying you can't camp!
On arriving at the beach drive south to the river mouth or north along the sandy 4WD track to Bauer Inlet.
15. cedar bay
I've left the best till last.
About 40kms south of Cooktown, Cedar Bay is a stunning place to camp if you don't mind the long walk in from Home Rule or an expensive boat trip.
It is a popular destination for backpackers from around the world so English is usually the second language.
Get your camping permit in advance (www.nprsr.qld.gov.au/parks/mangkalba/) or call John on 4060 8252 for an easier boat trip, weather permitting.
I have missed out some places but this list should give you a good start for exploring our fabulous beaches. I strongly encourage you to find your beach, take your shoes off, take a hat and some water and walk. Often the only footprints you see will be your own.
travel nq fast facts:
Many of these campsites work on a first-in basis so you can't make forward bookings possible unless we have provided a phone number.
National Parks campsites need to be booked ahead – go to www.nprsr.qld.gov.au
Marine stingers (jellyfish) inhabit the beaches in the summer months (Oct-May) so wear stinger suits in those months for swimming
Be croc-wise around rivers and estuaries and watch out for croc signs
Be a responsible camper and leave only footprints behind
---
Paul Curtis is the author of The Traveller's Guide to North Queensland.
We highly recommend this book for more information on bushwalks, camping spots and places to explore in FNQ.
Go to www.nqwildscapes.com to find out how to get a copy.

All the photos featured on this page are thanks to Paul Curtis