While many foodies love travelling overseas to learn about different cuisines and take cooking classes, Rainforest Bounty in the Atherton Tablelands offers monthly cooking classes closer to home with a fantastic rainforest setting.

I was pretty excited to be going along to a full day Vietnamese cooking class with Rainforest Bounty as I'd never been to cooking classes before and this cooking school is a 'paddock to plate' experience.
[headline size="small" align="left"]Who's in the kitchen?[/headline]
After being handed our very own aprons with our name on it, we sat down for morning tea overlooking a creek and rainforest, which provided the perfect backdrop for our day.
As we sipped our coffee everybody introduced themselves and explained what brought them along to the cooking class.
There were many mother and daughter pairings but I went alone and was looking forward to spending the day with this eclectic group of women.
We ate delicious pumpkin scones, cream and homemade jam while Geraldine McGuire, our host, provided a rundown of the day and the recipes we would be making.
Then we were given a lesson on the tropical fruits that Rainforest Bounty grow on their property and how to pair them with local cheeses.
We sampled Gallo cheeses with native fruit condiments, starting with the Rainforest Plum and Strawberry Spiced Paste.
We tasted Rainforest Lemon and Lime Pickle, Mango Chutney, Davidson Plum Sauce and a range of others, tantalising our taste buds before the real cooking began.
[headline size="small" align="left"]working up an appetite[/headline]
To work off morning tea and build up an appetite for our cooking class, we all put on a pair of gumboots and followed Geraldine around the property.
We spotted turtles and fish in the creek but unfortunately we didn't see any platypus on this occasion.
We learned about many of the native plants and saw what Davidson Plums look like before they change colour on the tree.
Then we headed back, eager to finally begin cooking.
[headline size="small" align="left"]ready steady cook[/headline]
Geraldine explained all the ingredients and then broke us up into groups, allocating different recipes to each group.
I was paired with fantastic, enthusiastic cooks so we quickly got stuck in to preparing our first recipe of Vietnamese spring rolls.
We prepared all the ingredients, peeled the prawns, soaked the noodles and then started on the Vietnamese Dipping Sauce.
And I have to say that the dipping sauce was incredible.
In fact, I added it to everything when we sat down for our feast at the end of class.
Our group also prepared a Rainforest Lemon, Banana Flower and Duck Salad, while the others got busy with Pho Noodle Soup, Vietnamese Fish Curry, Vietnamese Spicy Braised Beef, Steamed Rice and Sweet Coconut Sticky Rice.
When the food was ready, we all sat back down at the beautifully set table overlooking the creek, raised our glasses of wine and made a toast.
Then it was finally time to taste our cooking, and I have to admit, we did a pretty good job.
We were also pretty hungry by then because we didn't actually sit down to eat until close to 3pm.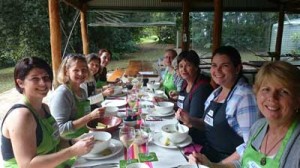 We commended each other on our efforts, oohed and aahed over each dish and soaked up the relaxed atmosphere at the end of the day.
And the best bit is we didn't need to do the dishes!
[headline size="small" align="left"]travel nq fast facts:[/headline]
Each month Rainforest Bounty hold a different themed cooking class including Vietnamese, Indonesian, Mediterranean, Middle Eastern, Malaysian and Lao/Thai (go to their website to find out themes for forthcoming classes)
Rainforest Bounty products (condiments, spiced pastes, chutneys, syrups, pickles, sauces and vinegars) are all available for sale
Rainforest Bounty Cooking Classes are held at a Malanda property.
[headline size="small" align="left"]how to get there[/headline]
Make sure you make a note of these instructions – you will thank us!
Take the Gillies Highway turn off at Gordonvale up the Gillies Range. Turn left at the turnoff to Lake Eacham (if you arrive in Yungaburra you have missed the turnoff).
When you arrive in Malanda turn left at the Dairy Centre (if you drive through the town of Malanda you have gone too far).
Turn left into Glen Allyn Rd, which is opposite the Mobil Service Station.
Continue along the road for about five minutes until you reach Lindsay Road on your left.
Turn into Lindsay Road and continue to the end of the road where you will see a large 'Rainforest Bounty' sign.
Drive through the gates but don't drive up the hill.
Drive over a narrow bridge where you will see the cooking school.