Scenic lookouts are always a tourism favourite and if you go at the right time of day with the best light, they can be the highlight of a days journey.

Whenever you see the words 'lookout' on a map it so often seems worthwhile to deviate a few kilometres out of your way in the hope of chancing upon a fabulous vantage point so you can grab some pictures which will be the envy of your friends.
Like every destination, North Queensland has plenty of official and unofficial lookouts so I've put together a selection of the lookouts that often have me returning in the hope of catching the perfect sunrise, sunset or a storm rolling over the countryside.
So, in no particular order:
blencoe falls
Starting off with a good one, Blencoe Falls is west of Cardwell at the end of the scenic but sometimes rough Kirrama Range drive.
A safe lookout platform has been built overlooking the spectacular falls and gorge.
This is one of north Queensland's best scenes with great creekside camping available.
barron falls
Similar in nature to Blencoe Falls but closer to civilisation, Barron Falls is accessed via Kuranda.
It is easy to get to along the expensive, all weather and disabled access raised walkway.
Best in the height of the wet season when the Falls are thundering.
mt wallum
Mount Wallum is at the back of Atherton along one of the popular mountain bike trails.
It is possibly the highest point you can (easily) drive to in Queensland.
From the 1,292m high summit you can get some amazing views over Atherton and the Tablelands in many directions.
Look for signs to the south of Atherton along the Herberton Road.
mt edith
This is one of the best views in the Wet Tropics.
It is at the end of a short, rough walk just off the Mt Edith Rd, which is part of the scenic Mt Edith/Kauri Creek circuit drive of Danbulla (Lake Tinaroo) Rd.
Warning – this is not one of your safety railed, chicken wired lookouts so care needs to be taken.
The unsigned track departs near the crest of the Mt Edith Road.
north johnstone lookout
This is another great wilderness view at the end of a steep downhill walk (for a change) departing from Crawford's Lookout on the Palmerston Highway.
Of course your return walk is uphill but if you have extra energy you can continue to the bottom and a wild, otherwise inaccessible, part of the North Johnstone River.
bramston rock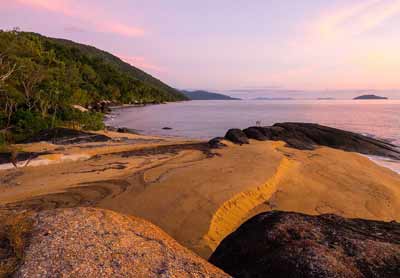 This is a bit different.
A couple of kilometres up the beach from the National Park camping ground at the north end of Bramston Beach is what I call Bramston Rock.
A singular large boulder sits on the beach in a beautiful bit of coastal scenic wilderness.
Great views up and down the beach but you need a low tide and a bit of rock scrambling abilities to get there
fitzroy island lookout
For another bit of variety I have included one of my favourite island lookouts.
Fitzroy Island is under everyone's noses but often neglected by locals.
The steep walk up to the top of the island is very rewarding with almost 360 degree views over azure barrier reef waters.
Enjoy a refreshing swim back down at the bottom.
Campers or resort guests can enjoy a great sunrise at the end of an early 40 min walk.
kahlpahlim rock
Now there are plenty of steep mountain climbs around North Queensland that quite obviously have views to die for and I have a 'value for effort quotient' for all of them.
At the top of the list is Kahlpahlim Rock – or Lamb's Head.
At the end of Davies Creek Road are two well signed trails up the mountain.
It's around two hours of steep though scenic walking to multiple summits.
Like Mt Edith, this location requires some common sense and observant walking skills to avoid getting into difficult or dangerous situations.
---
Paul Curtis is the author of The Traveller's Guide to North Queensland.
We highly recommend this book for more information on bushwalks, camping spots and places to explore in FNQ.
Go to www.nqwildscapes.com to find out how to get a copy.

All the photos featured on this page are thanks to Paul Curtis