You know how sometimes you just have a need to completely get away from it all? A stay at Sweetwater Lodge in Julatten might just be what you're looking for. With only two luxury cabins on this 160 acre property, you will feel like you're miles from anywhere with forests, a natural swimhole and a beautiful valley all to yourself.
Waking up on our first morning looking out across the eucalypt trees to the mountain ranges, I tried to think of the words to describe how this place made me feel.
Not far from Port Douglas, where there are oodles of relaxing resorts and spas, Sweetwater Lodge offers something entirely different.
I didn't just feel relaxed, I felt nourished.
The weekend we were there, there was nobody staying in the second cabin and since the owners live a short drive away on the property, we really did feel like we had the whole property to ourselves.
It is private, tranquil and utterly silent (apart from the bird noises).
Since Sweetwater Lodge is so immersed in nature, it has all the benefits of camping in the wilderness combined with all the creature comfort and luxuries you'd expect from a self-catering apartment in a resort.
It is magical.
[headline size="small" align="left"]a good base for exploring[/headline]
Let's talk about the practical stuff.
Sweetwater Lodge is in the northern Tablelands on the road from Mossman (just north of Port Douglas) to Mount Molloy.
There is very little on this road apart from the two small communities of Julatten and Mount Molloy, so apart from a couple of local dining options, a stay here involves self-catering or a 30 minute drive to the restaurants of Port Douglas.
The unique appeal of Sweetwater Lodge makes it perfect for travellers who are self-driving and want a good central base from which to explore the Tablelands and the Daintree.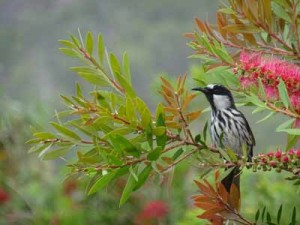 Since the Northern Tablelands are a bird lovers paradise, Sweetwater Lodge is not-surprisingly popular with birders.
The property itself is great for bird watching since it has four different types of habitat that attract an abundance and diversity of bird species (Sweetwater is positioned in an ideal spot where the landscape of the Tablelands changes from rainforest to savannah grasslands).
So, if you are into birding you won't need to travel very far to spot a variety of species. And if you want to really make the most of your time, there are experienced local birding guides in the area so just ask the owners if you want to hook up with one.
[headline size="small" align="left"]accommodation[/headline]
The property at Sweetwater Lodge is owned by Wendy and Glenn Cambage who have recently added two self-catering tropical-style cabins, which only cater for a limited number of guests (each one sleeps two people).
They have been architecturally designed using beautiful timber and corrugated iron to give it that distinctly Aussie style.
The bed is worth a special mention – not only is it fabulously comfy (we slept like gum tree logs!) but it also looks out across grasslands and mountains through huge floor to ceiling windows.
Of course, you can always pull the blind down if you want to sleep in but we opted to wake up with the birds when the sun came up. Definitely the best kind of alarm clock to have.
Since there isn't an abundance of shops and restaurants close by, its a good idea to take at least a few provisions along with you.
The deck in the cabin encompasses an outdoor dining area and kitchen, including a weber BBQ, so definitely take eggs and bacon for breakfast and a couple of steaks to throw on for dinner.
The kitchen has all the cooking utensils you'll need plus some basic condiments.
The accommodation also has a huge bathroom with a bath and a large walk-in outdoor rainshower, as well as all the usual amenities you would expect like a TV.
Although I doubt many people actually use the TV since this is definitely the kind of place you come to enjoy the silence and simplicity.
[headline size="small" align="left"]every backyard should have one[/headline]
Besides bush walking, wildlife spotting, exploring the rainforest, bird watching, fishing, swimming or kayaking, I'm guessing that most guests are quite happy to spend their time enjoying the rest and relaxation.
We certainly did. Apart from a walk up through the rainforest, we didn't feel the need to do very much except soak it all in.
And, Sweetwater Lodge has an additional feature that is the perfect spot to do just that.
A short walk from the cabins there is a natural waterhole where the owners have built a shelter where you can relax on loungers or enjoy a sunset drink while keeping an eye out for the resident platypus.
This must surely be every guests favourite spot to hang out? It's so good that everyone should have one!
[headline size="small" align="left"]travel nq fast facts:[/headline]
Sweetwater Lodge is 30 minutes from Port Douglas and 75 minutes from Cairns International Airport
It is close to close to national park areas including Mount Lewis National Park
The climate is cooler and drier than the coast