Rob Prettejohn has always been a visionary with a strong passion for the environment. In the 1970's, when local laws required property owners to chop trees down, Rob bought 145 acres of prime real estate near Port Douglas and planted even more.  
It seems incredible to think now that only a few decades ago, people who bought land in Far North Queensland were actually incentivised to clear pristine rainforest in favour of sugarcane crops.
But at the time sugarcane was the region's main industry – tourism didn't really take off until the Cairns International Airport was opened in 1984.
Rob says that when he bought the Thala Beach Nature Reserve property there was already 100 acres of sugarcane growing on it and part of the condition of him buying the property was that the land had to be cleared.
"The cane industry was going through a period of great prosperity at the time," Rob says. "The council wanted me to clear the existing forest and plant more sugarcane. I didn't want to clear it so I was heavily penalised as part of the purchase. Unfortunately there was no value placed on the environment back then."
The land between Pretty Beach and Oak Beach could so easily have been covered in sugarcane and a 700-room hotel had it not been purchased by someone with such passion for the environment.
But today, Thala Beach Nature Reserve is an eco resort that boasts six different natural habitats.
These include ancient lithoral rare vine rainforest, dry eucalypt forest, beach frontage with casuarinas and mangroves, coconut plantations, open sclerophyll forest and inland creeks.
[headline size="small" align="left"]building a resort on eco principles[/headline]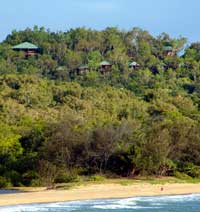 Rob says it took him three months to conceptualise what he wanted to create at Thala Beach.
He wanted it to blend into the natural environment without imposing or dominating it. "I wanted the resort to look like it had just grown out of the ground," he laughs.
Even though he was way ahead of the current 'green' and 'eco' trends, he says his vision was to create a resort based on eco principles with a bio-dynamic environment. He wanted it to have minimal impact on the landscape and also take in the amazing views over the Coral Sea.
This was not the first time that Rob and his wife Oonagh had built a resort.
They had previously turned another sugarcane farm into the beautiful Kewarra Beach Resort in Cairns. Part of that development included the construction of a lagoon and an exquisite tropical garden full of exotic plants and thousands of trees, creating a resort within a lush habitat.
[headline size="small" align="left"]leading the way for eco resorts[/headline]
Today Thala Beach is used as a model for eco resorts around the world although Rob points out that town planning laws and strict regulations today probably wouldn't allow a resort like this to be built anymore.
The tide has certainly changed in the last 40 years and there is now a much greater emphasis on protecting the environment.
Rob thinks that the laws may have swung too far the other way with so many laws restricting what you can and can't do. He suggests that they "should provide a skeletal framework that allows people to use their own creativity while still adhering to eco guidelines."
However, thankfully, it is a positive change from the complete lack of value and importance placed on the local environment in the 1970's.
Today, thanks to Rob's vision, guests at Thala Beach Nature Reserve can enjoy the environment and wildlife that he has helped preserve in this beautiful natural habitat.
[headline size="small" align="left"]travel nq fast facts:[/headline]
Thala Beach Nature Reserve is located about 10 minutes drive south of Port Douglas
The accommodation consists of 83 deluxe timber bungalows