The Thorsborne Trail on Hinchinbrook Island is certainly one of Australia's top wilderness walks, if not the world's. It has been attracting thousands of visitors a year for many years who come to walk along its tropical beaches, past beautiful waterfalls and through diverse forests.
I recently re-visited Hinchinbrook Island with my brother Michael on a bit of a photographic journey.
Circumstances led us to trek south to north, which is the opposite direction most people choose to do and also the opposite to all the available track guides and references (maybe because it seems like its downhill all the way!).
This meant we had to read our guides backwards to get an idea of time, distances and features along the way.
So for the benefit of left-handers and true individuals here's our tale of walking backwards along the Thorsborne Trail.
getting there
We hopped aboard the boat at Lucinda, home of the longest jetty in the southern hemisphere, and motored off into grey and gloomy skies hanging over the mountainous island.
George Point at the southern tip of the island was dark and desolate on our arrival and we walked off into light rain to our first campsite at Mulligan Falls.
Luckily the worst of the weather seem to pass and we settled into our rainforest campsite and quickly chatted up the other groups of campers to gather info on the trail ahead.
The general consensus seemed to be that sandflies, mosquitoes and slippery, wet rocks were what lay ahead of us
zoe bay
Early the next morning we awoke to sunshine peeking through the rainforest canopy.
After a quick refreshing dip in the beautiful pool at the bottom of the falls we headed off up the steep incline towards the saddle over to Zoe Bay.
After about six hours of walking and dallying with cameras we finally arrived at one of the most picturesque bays on the Queensland coast.
True, the sandflies and mossies took the edge off it.
But the mountainous panorama from the beach and the clear waters of the Zoe Falls plunge pool made it hard to leave, so we decided to stay for two nights instead of the planned one.
next stop little ramsay bay
Feeling re-charged after a relaxing day the next destination was Little Ramsay Bay, another six hour walk around the back of Zoe Bay then over a low-ish saddle and down to the bay.
After leaving Zoe we hardly saw anyone else for the remainder of the trip compared to the dozen or so fellow travellers at Zoe and Mulligan.
Little Ramsay Bay is beautiful but different to Zoe. There's no waterfall but the beach is beautiful golden sand unlike the fine black sand in the other bays.
There's a lagoon of fresh water just up off the beach right next to the campsite and the morning mountain reflections are amazing.
We had a blissful morning taking photos and alternating between freshwater swims in the lagoon and saltwater swims in the azure blue millpond of the bay.
off to nina bay
Our destination over the next saddle was Nina Bay.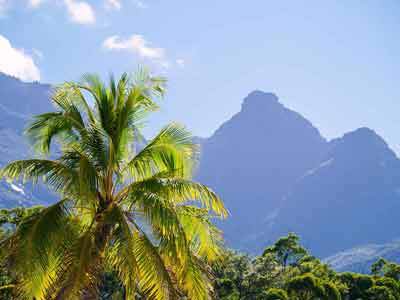 I had never camped at this bay before so I was looking forward to new photo opportunities.
Again we had a great campsite to ourselves and once set up and our water supplies re-stocked we were soon kicking back with coffee and cameras.
The following morning was spectacular with the rising sun bathing the mountainous backdrop with beams of golden sunlight.
It was hard to leave but we had a ferry to catch at 10am and we didn't want to be left stranded.
The benefit of a last night at Nina is that it's a relatively easy hour and a half walk to the ferry.
And wouldn't you know it, but we encountered a boatload of new arrivals wandering down the beach as we left our idyllic few days of deserted beaches. Maybe that's why you should walk south to north?
planning tips for the thorsborne trail
Some people attempt this 32 km trail over three or even two nights. But some people are crazy too.
If you are considering walking the Thorsborne Trail and travelling south to north I'd recommend six nights as follows:
Night One – Mulligan's Falls camp
Nights Two and Three – Zoe Bay – because it's just so good and you should spend a day relaxing around the pool or exploring up the beach.
Nights Four and Five – Little Ramsay Bay – exploring the headlands, follow the creek upstream, ocean and freshwater swimming. Or one night at nearby Banksia Beach and take a low tide journey out to Agnes Island
Night Six – Nina Beach allowing for a short easy walk out to your ferry collection.
Compared to everything else you have to carry, food for an extra few days adds little to the weight of your pack.
The Thorsborne Trail is a great wilderness experience but it is NOT an easy walk.
I have met many travellers who admitted it was harder than expected, particularly if you are used to other world famous walks.
There are a lot of rocks you have to walk or climb over and they can be very slippery after rainfall.
However, the scenery is stunning and while around 3000 people walk the track each year, you often don't see anyone.
Paul Curtis is a photographer and author of The Traveller's Guide to North Queensland. For his more detailed description of the Thorsborne Trail go to www.nqwildscapes.com
Photos thanks to Paul and Michael Curtis
travel nq fast facts:
Temperatures and humidity can get extreme.
There is unreliable Telstra phone coverage from Mulligan Camp and some of the saddles. Expect maybe just text signal at best.
Sand flies and mossies can be a major issue
Water is usually not a problem between bays.
Toilets and steel food lockers are at all designated campsites and if you are lucky there are some picnic tables.
There are no rubbish bins so plan to carry everything out.
Don't get sunburned on the first day!
Two companies offer boat charters to the island: Absolute North Charter or Hinchinbrook Island Cruises
For information about permits go to http://www.nprsr.qld.gov.au/parks/hinchinbrook-thorsborne/about.html. It pays to book your permit early, especially for holiday periods.