To really appreciate the peace, quiet and authentic country charm of the Cairns Tablelands, why not book into one of Yungaburra's quaint country cottages or, for something really unique, a converted Methodist chapel.
The charming historic village of Yungaburra has been the arts, accommodation and restaurant centre of the Cairns Tablelands for years.
Set amidst rolling green hills on the southern end of Lake Tinaroo, this is definitely dairy farming country, which is a contrast to the lush tropical greenery of the coast. However, beautiful patches of rainforest with creeks and waterfalls still exist between the paddocks and pastures.
Known as the 'food bowl' of the north, I've always found most of the towns in the Cairns Tablelands very agricultural but Yungaburra is different.
Instead of shops selling farming supplies, you'll find funky little cafes, shops, galleries and a fantastic second hand book shop which also serves coffee.
There's no doubt Yungaburra is charming and its wide tree-lined streets, pretty lanes and heritage-listed buildings seem to have attracted a more creative crowd.
Given that Yungaburra is also conveniently located right in the centre of the Tablelands, it is a great place to base yourself if you're exploring the area.
[headline size="small" align="left"]accommodation in yungaburra[/headline]
There is a good range of country-style Yungaburra accommodation from motels and luxury retreats to self-contained cottages.
[headline size="small" align="left"]miss bullen's cottage[/headline]
We recently stayed in Miss Bullen's Cottage, a favourite with local Cairns families wanting a weekend away.
It is a quaint old country-style two-bedroom cottage with a large backyard (including swing) and all the facilities you could possibly want in a home away from home.
Our daughter immediately announced that it was the kind of place she could easily live in.
Perfect for a family of four or five, the cottage has two generous bedrooms, a separate toilet and bathroom and a cosy living area with a lounge, kitchen and dining table.
In the cooler months of the dry season (May to September) it can get quite cool at night in the Tablelands so there is also a very welcome wood fire heater.
One of the beautiful features about Miss Bullen's Cottage is the timber decks at the front and back, so there's always somewhere to sit outside and soak up the sunshine.
You can even do as we did and pick up some delicious cheese from nearby Gallo Dairyland and enjoy your complimentary bottle of wine with cheese and biscuits over a game of late afternoon scrabble (there is a good stock of board games available for guests too).
[headline size="small" align="left"]the church[/headline]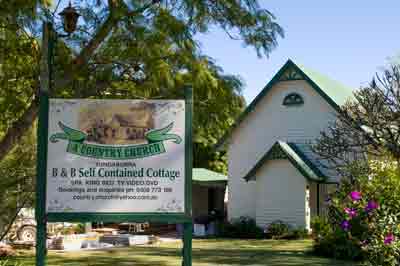 Rob and Mandi, the owners of Miss Bullen's Cottage, also own the old Methodist chapel next door, which is also available to rent.
Built in 1927, The Church provides a really unique Yungaburra accommodation to stay in the Tablelands that is ideal for romantic weekends away.
And if you have a few extras tagging along, Rob and Mandi have just converted the toilet block behind the chapel into additional accommodation that can sleep an extra four people comfortably.
[headline size="small" align="left"]travel nq fast facts:[/headline]
Yungaburra is approximately one hour's drive from Cairns, via the Gillies Highway.
The popular Yungaburra markets are held on the last Saturday of the month (7.30am-12.30pm) so if you love wandering country markets then make sure you plan your trip on one of these weekends.
The Curtain Fig Tree, Lake Tinaroo and the Waterfalls Circuit are only a short drive away
Yungaburra has a platypus viewing platform near to Nick's restaurant
There are plenty of other things to see and do in the area for a 2-3 day visit.