Cattle stations the size of small countries are a uniquely Australian phenomenon and many of them allow camping. So if you want a true Aussie outback experience, head out into the wilderness and pitch your tent at an outback station.

North Queensland has a number of cattle stations that offer remote and stunning wilderness areas where you're allowed to camp. And, best of all, most of them have rivers or creeks running through them so you can cool off in the hotter months.
These are some of the best cattle stations for camping in NQ:
1. emu creek station
Two hours from Cairns, Emu Creek is a working cattle station and popular camping spot with locals who love bush camping.
It is a large station but the owners limit the amount of campers who can stay here at any one time, so everyone has plenty of space.
Emu Creek itself runs through the middle of the property. It is a great spot for kayaking, swimming, fishing and yabbying, although some sections of the river occasionally dry up between July and September.
There are limited amenities so go prepared. Campfires are allowed and you can also take your dog along as long as you tie it up at night.
2. woodleigh station
Also a working cattle station, Woodleigh is close to Ravenshoe and a favourite with many local campers.
It's been in the one family for five generations and the property now offers camping, farm stays and day tours.
There are plenty of places to camp but the most popular spots are along the Millstream River that runs through the property. There is even a beautiful waterfall you can camp beside or stop at for a refreshing dip.
There are no amenities for bush campers but there are toilets near the homestead. Campfires are allowed and dogs are considered on an individual basis but definitely no pig dogs.
Woodleigh Station is also only 15 to 20 minute drive from Ravenshoe if you need to pop into town and only a short drive to Innot Hot Springs (natural hot springs) if you feel like sightseeing.
For more information check out their website at www.woodleighstation.com.au
3. wetherby station
NOTE: Camping is no longer available at Wetherby Station (April 2020)
4. mont albion
Mont Albion is a cattle breeding property owned by Tom and Dianne Mauloni, about 25 minutes drive west of Herberton.
Only two hours from Cairns, this is 'off road' camping so the owners will arrange to meet you at a meeting point so they can show you around and give you some information about the area.
There are several dams and creeks on the property so there is a choice of camping spots. Most of it is bush camping so you will need to go prepared to be self-sufficient although there is power, water and a toilet in one area.
The dams are great for kayaking (take your own) or fishing for redclaw crayfish. If you don't catch anything there is a tavern and hotel about 6kms away that serve meals.
Mont Albion used to be an old mining town so there is a lot of mining history in the area. And, since this is well and truly in the middle of nowhere, the stargazing is amazing.
As the owners say, "you might find 5 star accommodation in Cairns but out here the accommodation has millions of stars!"
To find out more go to their website at www.aussiefarmentertainment.com.au
5. piggy's lagoon
NOTE: Kondoparinga Camping was under receivership and not open for camping (March 2019)
Piggy's Lagoon (Kondopingara Station) is about a 3 hour drive from Cairns and particularly good for groups and those who want somewhere to go with plenty of space for kayaking.
There are no amenities so you need to be completely self-sufficient but it's a beautiful spot with plenty of wildlife, including brumbies.
6. Boonmoo station
Just two hours from Cairns and close to Dimbulah, Boonmoo station offers about 40 campsites, all situated about one kilometre from each other so all campers can enjoy privacy.
There is a creek running through the property, and while the water levels depend on the wet season, you can usually swim or kayak all year round.
Like most cattle stations Boonmoo allows dogs (no hunting dogs) and is strictly self-sufficient.
It is 4WD access only during and after wet season and many sites are not accessible to caravans so check when booking.
7. karma waters
Karma Waters is on the Mitchell River about 25kms west of Mount Carbine (just over 2 hours north west of Cairns).
It's a very popular spot so they're often booked out for long weekends.
However, if you're lucky enough to get in they've got about 9 spots for bush camping along the river.
Go to their website www.karmawatersstation.com for more information.
8. hurricane station
Hurricane Station, which is near Karma Waters Station on the Mitchell River, also offer a few limited camping sites. Call them on 4094 8234 for more information.
9. goshen station
Goshen Station is a working cattle station where the first series of Australian Survivor was filmed.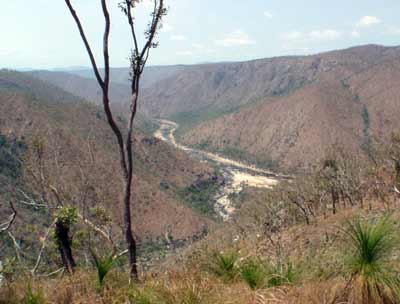 It is about 5.5 hours from Cairns (90 kms past Mount Garnet) west of Blencoe Falls.
It has the beautiful Herbert River flowing through the property and there is an amazing gorge and waterfall that you can visit too, which is about a 30 minute drive from the camping areas.
The river is deep enough for swimming, canoeing, kayaking, SUPing and is great for fishing, mainly offering Bream and yabbies. There are freshwater crocs but they don't seem to bother most campers.
Other wildlife includes kangaroos, birdlife and the occasional pig or snake (hey, this is Australia!)
There are 15 sites, most of them are private, and no amenities so bring your own supplies. There is mobile coverage (unusual for most cattle stations).
Cost is $50 access fee per vehicle plus $10 a night. Call Teresa on 4097 1428.
10. flat creek station
Located south of Georgetown near the old Etheridge goldfields, Flat Creek Station is about 5-6 hours from Cairns or Townsville.
There is plenty of shaded camping with showers and a toilet block as well as the opportunity to fossick for your own nuggets of gold (if you have a license). The owners also offer station tours.
Call 07 4062 5304 or email flatck@bigpond.com
travel nq fast facts:
Always seek permission (and book your space) before camping on cattle station property
Be a responsible camper and leave the site as you found it – take your rubbish with you
Be very careful to make sure you close gates behind you
Most cattle station camping doesn't offer amenities (toilets or showers) so you need to bring your own and be self-sufficient
Always check beforehand if generators are allowed
Always be aware that snakes, spiders and scorpions live in the bush so watch where you're walking and zip up your tents